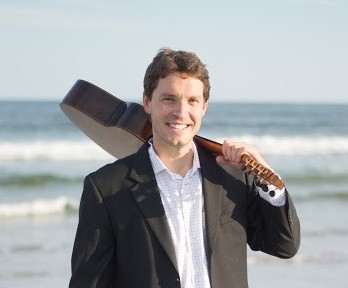 Justin Hoke is an active soloist, chamber musician, and educator based in Wilmington,
North Carolina. He has been featured as a soloist on classical and electric guitar with the Panama City Orchestra, Florida State University Orchestra, and the Appalachian State University Guitar Orchestra. In addition, Dr. Hoke has performed in solo and with ensembles across the East Coast in a variety of musical styles. He currently performs throughout the region as a member of the North Carolina Guitar Quartet.
Dr. Hoke joined the University of North Carolina Wilmington music faculty in 2013 where he teaches classical guitar and music theory. He graduated summa cum laude from UNCW in 2007 with a Bachelor of Music in classical and jazz guitar performance, studying with Robert Nathanson and Bob Russell. He received his Master of Music degree from Appalachian State University where he studied with Douglas James and his Doctorate of Musical Arts in classical guitar performance from Florida State University where he studied with Bruce Holzman.
Awards include first prize in the 2012 Florida State University Doctoral Concerto Competition, Florida State University graduate teaching assistantship 2010-2013, top prize in the 2010 Appalachian Guitarfest International Competition, top prize in the 2010 Music Academy of North Carolina Guitar Competition, Appalachian State University teaching assistantship 2008-2010, Appalachian State University scholarship in 2008, and the William F. Adcock scholarship at UNCW 2006-2007.
Dr. Hoke has previously served as a guitar instructor at Florida State University, Tallahassee Community College, Appalachian State University, and Emory and Henry College.